ALASKA AIRMEN'S ASSOCIATION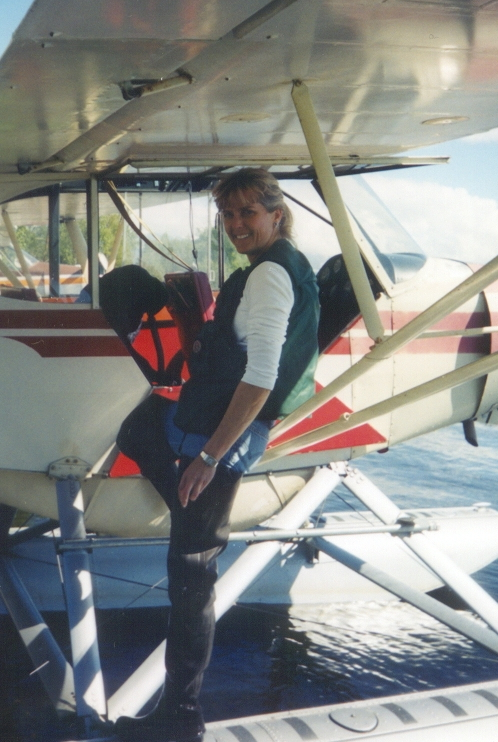 DEE HANSON - EXECUTIVE DIRECTOR
We keep hearing the buzz. We moved three times in two years. We need a permanent facility…
"It needs to be impressive!" "A place with that Alaskan feel." "A place where you can feel the warmth in the winter or take in the long summer afternoons; have a cup of coffee and shoot the 'whatever' with one of those people that just like to hang at the 'Lake'." "A place for members only!" "A place where anyone can come face to face with Alaska Aviation." A place to accommodate all of these and more…
Last fall the Airmen purchased the Jim Air property at the end of the first commercial finger, a prime location right in the middle of Lake Hood Seaplane Base, bringing us one step closer to that perfect, all encompassing home. If you have visited the office you know we need a few facilities here. After code reviews we discovered that the current structure needs upgrading and that the cost of an addition almost equals that of a new facility.
Proposals are being considered for that "addition", taking into consideration the upgrade and of course the possibility of an entirely new building. An Alaska Airmen member living "outside" has kicked off this official building campaign with a substantial donation challenging other members to participate.
Someone told me that it needs to be "cool" to belong to the Airmen's Association. I believe that a location for members to meet, greet and socialize could help. One of the proposals includes three offices, a small meeting room, kitchen and coffee bar, a hall gallery, fireplace, and a large conference area for safety meetings, retirement parties and a deck for BBQ's. Not to mention the fact that this is the best place on the lake to "score" every take-off and landing!
We are still developing our fundraising campaign, but call the office if you are interested in helping. Of course, the reason for all of this is to insure that we are heard. With every new pilot who belongs, the stronger our voice becomes. Be a part of securing our foundation as Alaska's advocates for general aviation.
Home page